In your company is ESG
more than just words?
Adopting an optimized ESG framework for your organization is not exclusively about assessing a company's value to potential investors – it also establishes a set of standards for future, long-term success.  Now, more than ever, industries are being held accountable for sustainable growth, emission reductions, health and safety, and more.  Industries are now held under higher expectation to innovate, organize and manage their business in a way that supports the high standards for ESG. Many organizations are not mature enough to handle the growing expectations and ever-evolving technology required by ESG and often do not have the experience to transition from high-effort resources, such as spreadsheets, which are error prone and do not scale.
Mature processes incorporate technology.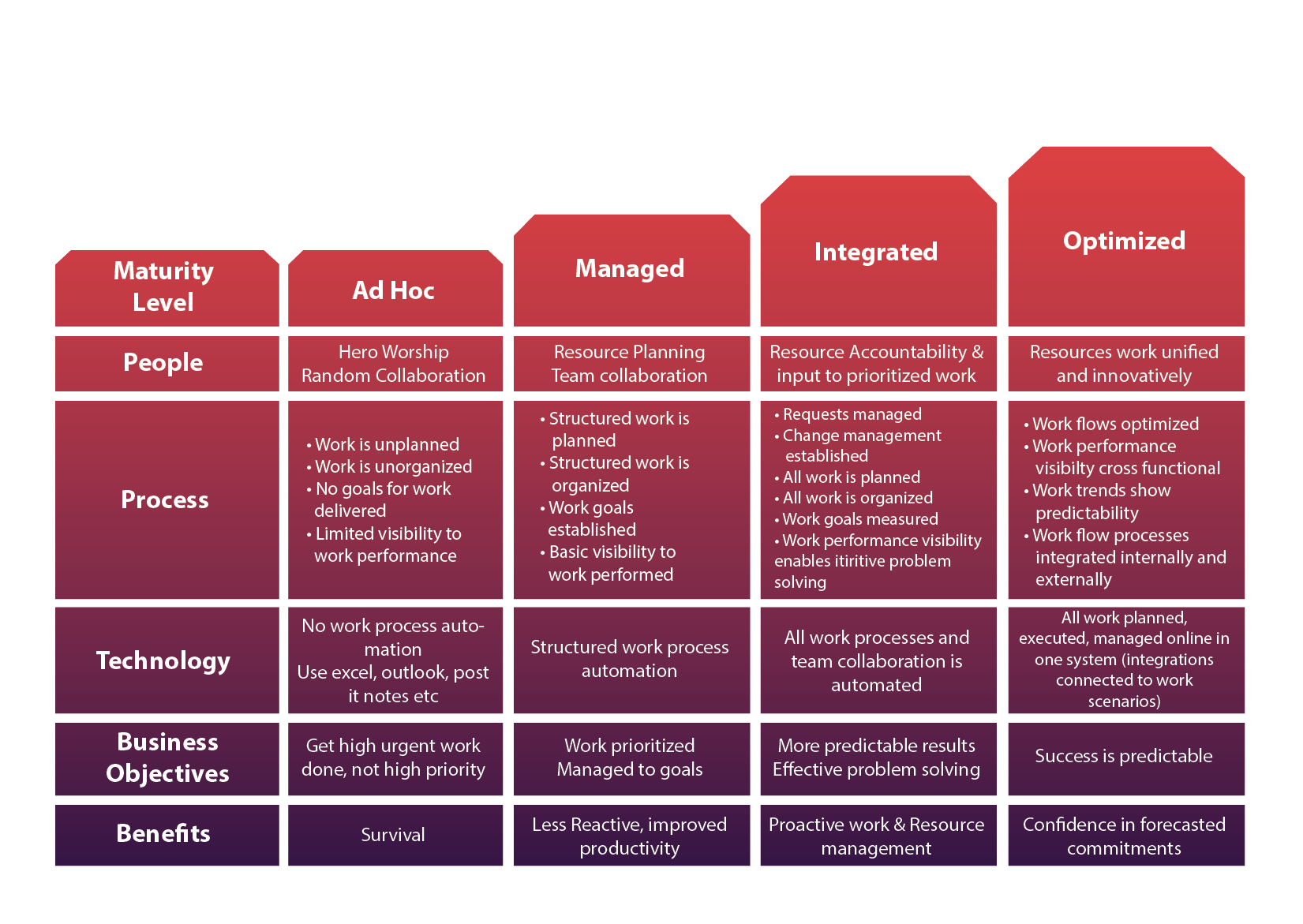 The diagram above describes common characteristics across varying levels of maturity that organizations experience as they grow. Organizations all start out as Ad Hoc in the way they conduct their business in the beginning. They hire the best people and they do things their way. Work is exciting as every day is a new adventure.
As the company rapidly grows, workflow becomes more about survival instead of creating organized processes. Typically,  companies brings in more people to support the Ad Hoc process, however, bringing in more people does not necessarily make a process better – often it makes the process even less effective and more disorganized. The organization will attempt to develop more Managed processes, by putting together formal process complete with process diagrams. A structured process requires more steps, more data to be captured and better visibility into both to truly improve productivity.
Companies typically don't take the necessary steps required to truly make the transition from Ad Hoc into Managed – without the proper steps Integrated is a bridge too far and Optimized is an impossibility.
When we work with companies we use this maturity model to identify where a company currently is at, and what their end goal might be. The most difficult step is moving from Ad Hoc to Managed. The implementation of ESP causes this transition to happen naturally.
Technology can play a key role in structuring and establishing company processes that align with company values set out in a company's ESG goals. Incorporating Energy Success Platform (ESP) can be a vital step in building a practical ESG framework backed by quantifiable results. Implementation of ESP triggers companies to review and agree to the best processes for their organization, which is often difficult through conventional approaches. As a result, process controls, data standards and efficiency practices become a core part of how the company operates.
Energy Success Platform's workflow solution provides the following benefits:
Standardization – Install oil and gas best practices to reduce manual effort and get visibility.
Agility – Get more done with fewer people and better position your company to pivot.
Automation – Integrate with key systems, reduce data entry, unlock siloed insights.
Simplicity – Increase productivity in a fully managed, enterprise-ready platform.
Predictability – Your processes become standardized, trust your data.
Learn More About Our Solution